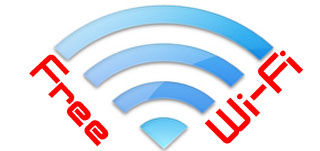 When you are getting ready for a trip and you ask yourself a question: where can I get access to a FREE Wi-Fi connection? Of course nowadays we use internet connection on our smartphones or tables via mobile providers but that's something we need to pay for and in case we want to watch a movie on-line (which use a lot of data transfer) the best option is Wi-Fi connection.
The question is where do you find the free Wi-Fi connection? First you might think of the fast-food chains (e.g. McDonald's) or coffee-shops (e.g. Starbucks with over 8,000 locations) but there are more places you can take under consideration. Here are 6 ways to search and find free Wi-Fi and 1 safety on-line tip at the end.
Search for free Wi-Fi hot spots & other mobile applications
There are some mobile applications that can help you to locate free Wi-Fi around you:
Free Wi-Fi Finder (by JiWire Inc.) – this little application helps you to scan for Wi-Fi hotspots around you. You can filter results by location (cafe, hotel, zip code, etc.) or provider type. It works on-line and off-line. Good for Skype users on the go. Available on iPhone/iPad and Android phones/tablets
Yelp! mobile application – is a good place to start your search for different type of places: stores, coffee-shops, restaurants, cinemas, etc. That might help you to find the address and additional information, such as: access to free Wi-Fi. Application is available on iPhone/iPad and Android smartphones/tablets.
RetailMeNot – yes it's a mobile application that helps you to find coupons but guess what, there are free Wi-Fi coupons available as well and the app is free. Available on iPhone/iPad and Android smartphones/tablets.
Public Places
Library – not only books you can find there but also a lot of libraries offer free wireless internet connection but also they have computers (with internet connection) you can use during the visit.
City Hall – great place to get some information if you are new in town and there is a chance to find a free Wi-Fi as well.
Shopping malls, supermarkets & book-stores
Grocery stores (e.g. Safeway) or shopping malls offer a free Wi-Fi connection so if you need to check an email or find something on-line – that's the solution for you.
Book-store (e.g. Barnes&Noble) is a good place to find a free Wi-Fi and most of the time there is a small coffee place as well so you can find place to seat and enjoy the free access to the internet.
Apple stores – a lot of people go to Apple store to check their emails on the store Mac computers. There is also free Wi-Fi available.
Restaurants & Coffee-shops
Starbucks – the largest coffee-shop chain in the USA offers the free Wi-Fi.
McDonalds – it's easy to find and most of the time you have access to free Wi-Fi.
Local coffee-shops & restaurants – you can always ask if the have a free Wi-Fi available.

Caribou Coffee – coffee-shop chain in eastern and Midwest states and yes – free Wi-Fi.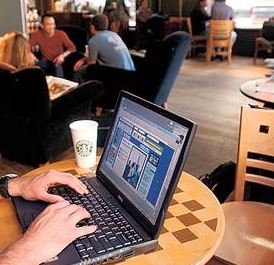 Use your smartphone/data plan
use your smartphone as a Wi-Fi hot spot (tethering) – it's not a free option, because you need to use the data plan you have on your smartphone but if there is nothing else you can do, that's the option you should take under consideration. Thanks to this option you can connect your laptop or tablet to the smartphone and use its internet connection. But first you need to make sure you have the shared-data plan (that allows you to connect more devices to your smartphone).
FoxFi mobile application – this application turns your Android smartphone into a free Wi-Fi hot spot. FoxFi usage is covered under the same smartphone data plan you have and no tether plan needed. Unfortunately the free version now has a usage limit that requires you to restart FoxFi to continue using free mode. In case you need more free Android Applications for tethering – check theMashable's article.

more information regarding tethering please check those links: how to tether your iPhone and how to tether your Android smartphone
Truck stops & hotels
Truck stops – not only you can find there a decent food, barbershop, laundry but also (most of the time) a free Wi-Fi connection. Visit Truck Stop Guide – it's a website where you have many search options (including wireless internet).
Hotels/Motels – before you book a hotel/motel check if they offer complimentary Wi-Fi access or search for free Wi-Fi coupons (via RetailMeNot).
Some gas stations offer free Wi-Fi.
Safety First
Before you connect your smartphone, tablet or laptop to a free Wi-Fi network please remember about safety on-line.
free/public Wi-Fi – it is free and PUBLIC so everyone else has an access as well. That means that strangers can snoop around and they can hacked your e.g.: on-line bank account. So you should keep your device as safe as possible while using the free/public internet connection.
on-line shopping – While you shop on-line (usually) you need to provide your credit card number, adress, etc. so it's better to stay on the "safe" side and instead of public/free Wi-Fi use more secure internet connection.
on-line banking – if it's not necessary simply don't check your bank account on-line. And if you really need to then better use your smartphone internet connection instead of public Wi-Fi.
turn off file sharing – File/folder sharing is an option you can use when you are connected to your home Wi-Fi network (so you can share folders and files between computers connected to your home network).
Windows users: When you connect your laptop to a free/public Wi-Fi make sure you set it to "public" (you will see that option when you connect to the Wi-Fi network for the first time).
Mac users: you have to change "system preferences -> sharing" and un-check all sharing boxes. Don't forget to check those boxes after you finish using the free/public Wi-Fi.
make sure nobody is looking over your shoulder while you are on-line and don't leave any passwords in a place that everyone can see them (e.g.: sticker on your laptop).
How about you? Do you have any experience in finding a free Wi-Fi while you are in a new place?